Photos
Sacred Heart Christmas Cards
Sacred Heart Primary in Penicuik made this fantastic selection of light-up Christmas Cards using our 5 Flashing Lights circuits.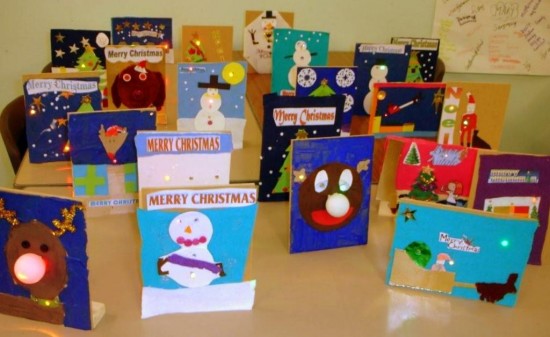 Dornoch Bridge
Dornoch Primary School built a fantastic light-up model of their local bridge. They used our Magic Candles for cat's eyes and Five Flashing Lights on the side to guide boats.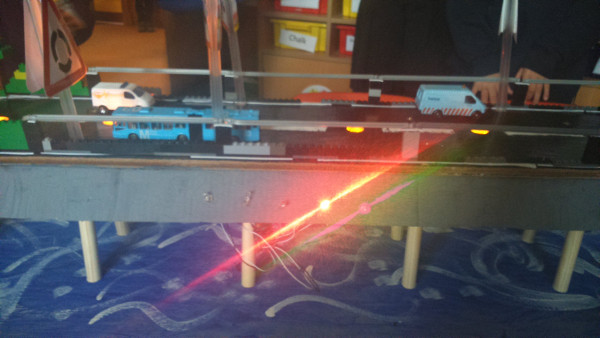 Hospital Education Service, Glasgow
Tom Gallacher has found our kits very popular with the children at Yorkhill Hospital. Here is a photo of Phoebe who had never soldered before but took to it like a natural!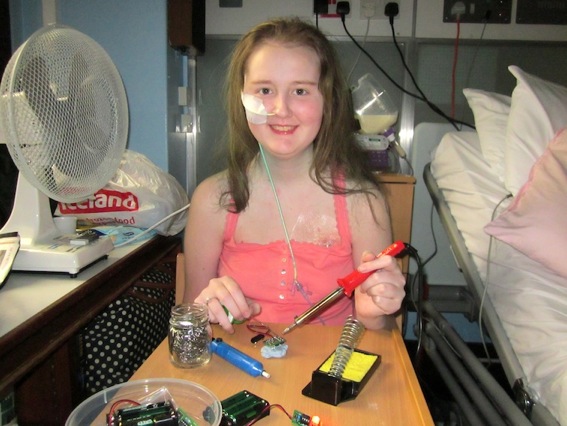 Mauricewood World Buildings
Mauricewood Primary School lit up all the major landmarks of the world using all three types of circuit kit.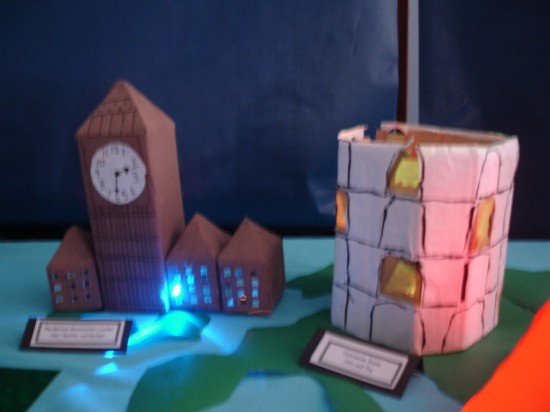 Birthday Cake
Mark and Alex made this fantastic light-up birthday cake.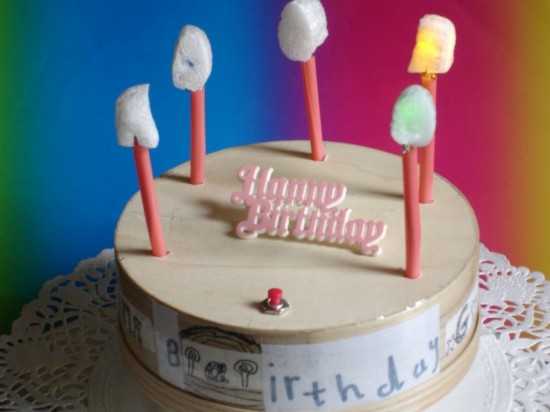 Peebles Masks
Peebles High School lit up these wonderful masks.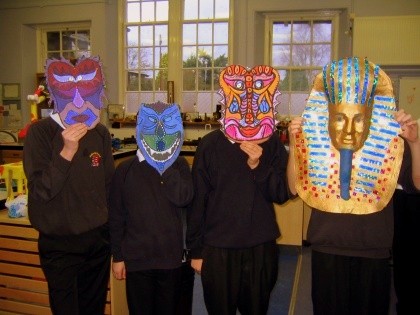 Newlands Dalek
Newlands Primary in the Scottish Borders build a light-up Dalek and used a Rampaging Chariot to make it move!
Your Photos Here...
We'd love to feature your creations on our website! Send your photos to Benjie Marwick Johnstone.
Latest News
Free Top-Up Kits
Thanks to generous funding from the Institute of Physics, we once again have free top-up packs available for schools who have previously taken part in the Lighting Up project!
Contact Benjie Marwick Johnstone to apply. Hurry while stocks last!
Soldering CPD at Dumfries House
Teachers from ten schools will join our upcoming CPD workshop at Dumfries House on Thursday 24th October. Each teacher will take away a free soldering starter kit for their school.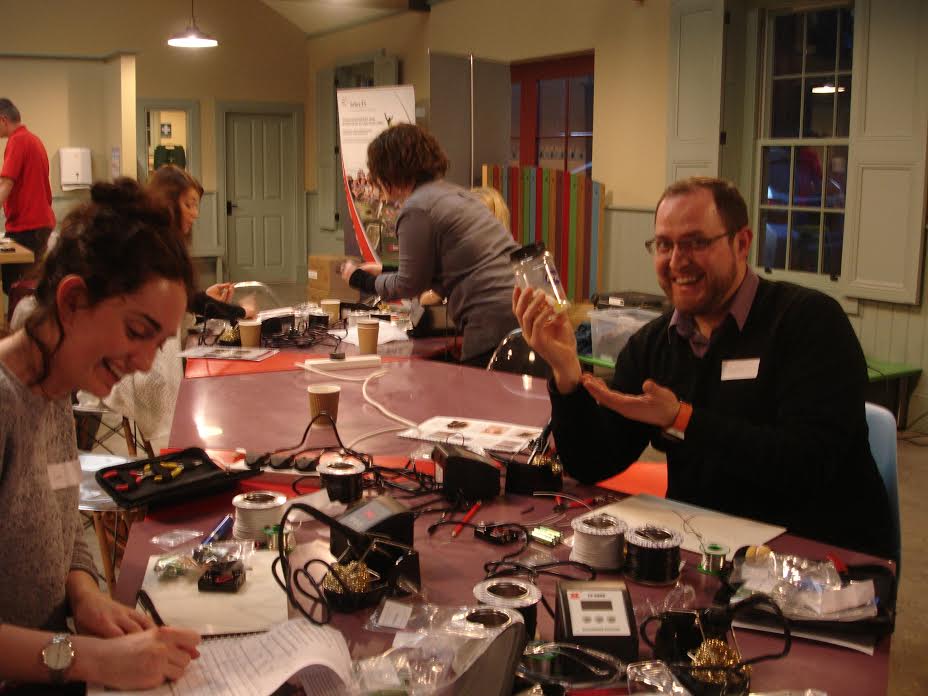 Peebles Eastgate Science Event
Over 400 pupils from Priorsford, Kingsland and Halyrude Primary Schools were busy bees at the annual Peebles Eastgate Event on Thursday 26th September and Thursday 3rd October.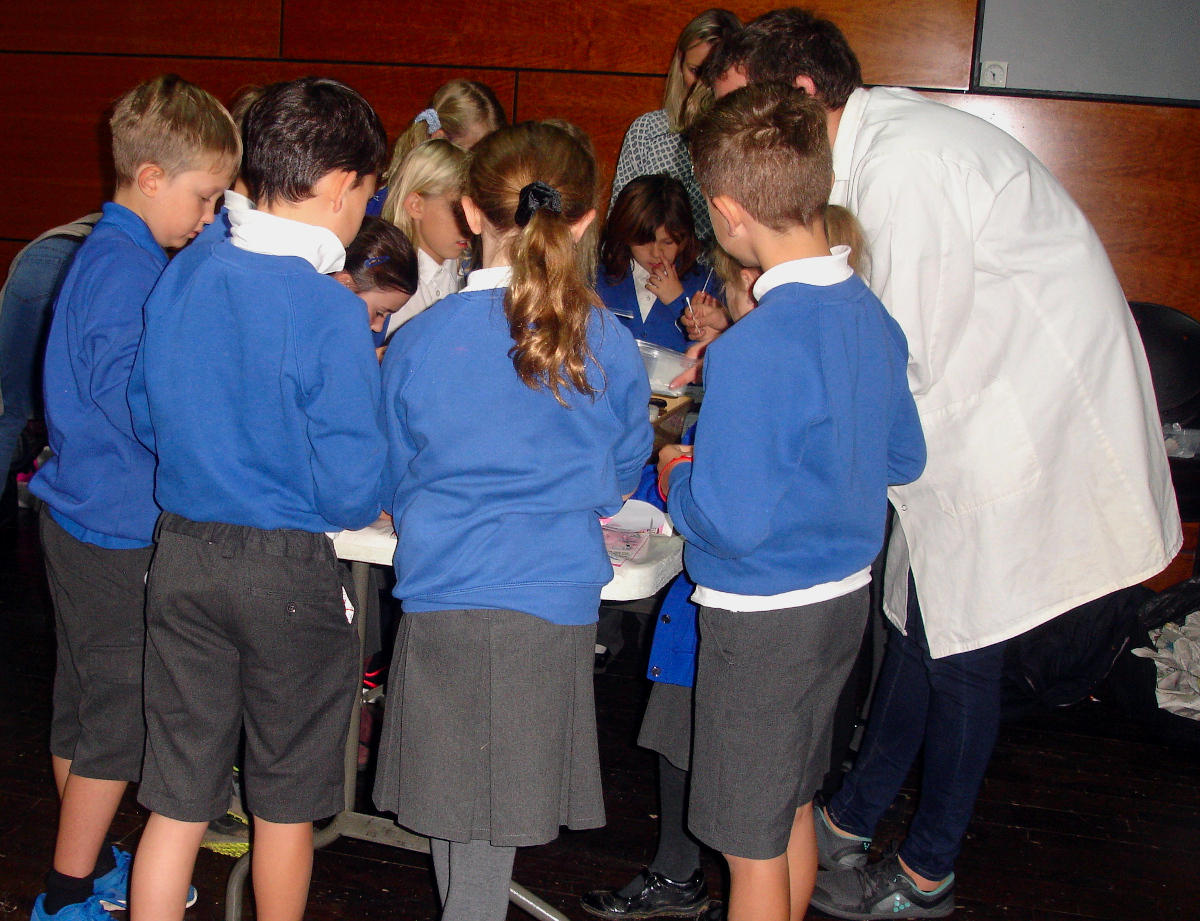 Lighting Up's workshop, Essential Engineering, ran alongside sessions on Brilliant Biology, Cool Chemistry, Mystery Maths and Terrific Technology.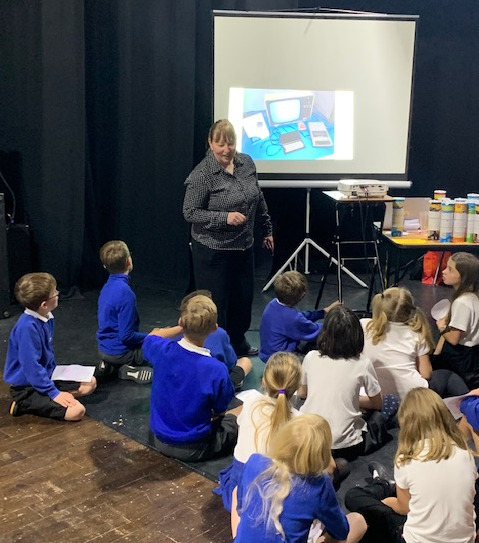 Peebles Soldering Workshop
Eleven pupils from Priorsford Primary School learned to solder at Peebles High School on Friday 20th September, ahead of the Peebles Eastgate Event.
Lighting Up Ae Primary
The pupils of Ae Primary School enjoyed an Alien Light workshop on Friday 28th June.